Start your day right. With breakfast (Why fast?)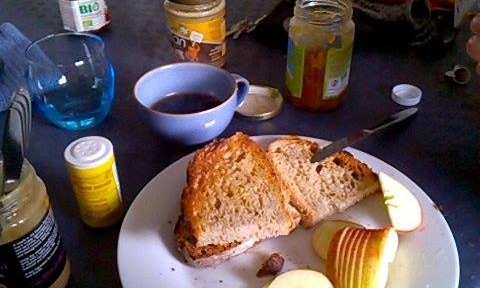 Whether you have a sweet or savoury tooth in the morning, whether you have time to indulge or are on a rush to somewhere and need a quick take away. There is always a healthy option to give your body the energy it will need during the day so you can stay fuelled and healthy!
Healthy Breakfast for starting a healthy day...
Humans are creatures of habit, so don´t take it too far straight from the beginning but rather graaaadually modify the constellation of your first meal for the day. Slowly, but with consistence, that´s the key to a healthy diet! It is not a short fix – detox or cleanse or whatsoever – it is YOUR WAY OF EATING throughout the rest of your life, preferably. So you will have to find out which way works best for yourself, to nourish your body and soul with good food, day by day. Healthy options will become your habits time after time, without torturing your body with a poor choice of flavours or lack of solid foods. Maybe it seems like a bit of sacrifice is necessary in the beginning (large amounts of sweet or salty treats are not part of this diet, neither are regular visits of fast food restaurants (unless regularly as like.. once a year maybe:P). Considering that it is your health, your energy and your beauty which increases with each day of leading a healthy life, sacrifice names it a bit harsh. Let´s call it compromise.
So, as promised: Some ideas for healthy choices which are not too hard to make…
Gradually reduce the amount of sugar you used to put into your drinks, until you can do completely without them.
You might think this is a small step, but a mighty one - if you just put 2 teaspoons of sugar into your hot drinks, which you drink maybe 3 times a day you can save yourself from about 25g of sugar, or 100kcal of unnecessary energy a day! (This makes 700kcal a week, 3000kcal a month . . . you get it, right?) 
Coffee can actually be a real health bomb if you let it! 
Just try not to drown it in too much milk or suffocate it with sugar. Probably due to its polyphenolic compound, the chlorogenic acid and its methyl-xanthines (which coffee and tea contain in the form of caffeine, theophylline and theobromine) the drink is the subject of a lot of research currently. Links between coffee consumption and lower rates of obesity, lower risks of diabetes and heart disease, lowering of blood pressure and improved gut microflora and mental health have been recognised so far [4, 5, 6, 7].
To benefit from the full scope of aroma and health benefits, choose to enjoy a good coffee of high quality.
Best case cenario: freshly ground, directly traded coffee, free from any contamination.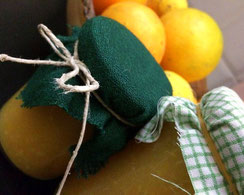 Get fruity..!
Swap your jelly to jam with very high fruit content (over 70%, there are even ones without any added sugar). Only thing to keep in mind: sugar is a preservative, so better store your new jam in the fridge to enjoy it longer. When you have a garden, or access to bigger amounts of fresh seasonal fruit - try to preserve them as marmelade, jam or spicy chutney yourself. So you can choose the ratio of sugar : fruit and have some fancy home made gifts which bring some summer feeling to the ones you give them to! To make them jelly just use agar agar and follow the instructions you find on the package.
..up to 100% ;)
In for something more exotic? Try tahini or nut butter (100% versions of either one) on your toast, topped with fruits – for example apple or banana slices – and cinnamon it is delicious! Calcium galore, protein, healthy fat as well as plenty of fibre and vitamins come with this combo.
Ditch the juice
Chew whole fruits instead, one medium sized orange has 3g of fibre and 10g of sugar. Imagine eating 4 large oranges in the morning – impossible? Indeed, in fact you only swallow all the sugar of those 4 oranges, but leave most of the healthy stuff to the compost. So the juice doesn´t make you feel full but gives you a lot of energy, aditionally you make your teeth get in touch with the acid without protection through your salvia which naturally is produced during chewing. In short: Eat your fruit, don´t drink it!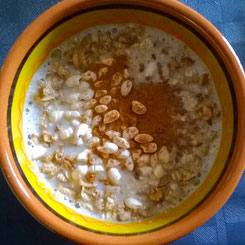 Real Muesli 
Oats (soaked over night in water) with fresh fruits like berries or grated apple, linseeds, nuts, some lemon juice and cinnamon, warmed and sweetened with local honey, make a throat soothing, comfy breakfast - porridge.
Self made Granola 
Just mix three cups of grain flakes (oat, corn, rice pops, wheat, barley, millet, whatever you find and like) with a cup of nuts and maple syrup, schwupps you have a mixture which you can spread on a sheet of baking paper and heat it about 20 minutes in the oven, at around 170°C. Then you can break it into chunks and serve it with your preferred milky drink or just nibble it.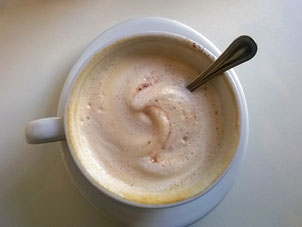 Soy drink instead of cow´s milk 
Same for yoghurt, I know the greek one might be slightly more creamy and mouth filling but keep it light in the morning. There is still the whole day, full of delicious food options, in front of you, so why fill your energy requirements already in the morning?
Saturated fat from animal sources promotes LDL-cholesterol to float around in your blood vessels which makes thrombose more likely, animal protein is accelerating the progress kidney problems. (Poly-) unsaturated fat therefore prevents cardiovascular disease, plant protein has no negative impact on diseases [1, 2, 3]. So boost your health with small amounts of seeds, nuts and cold pressed vegetable oils in your muesli, bread, spreads or sprinkled over salad. If you use a lot of milk products, try to change them gradually for plant-based alternatives. Dairy cream for example can be easily replaced with oat or soy cuisine cream. Even if you think soy milk is nothing for you, it might just be a matter of brand. Try some different ones, they should have a similar nutrient composition as the cow´s milk u used to drink: 3% protein, 3% fat and 3% sugar approximately. In case you plan to substitute all your dairy products with plant ones, make sure you go for products which have added Calcium and Vitamin B12.
Remember: It will always be YOUR choice, you make it in favour of YOUrself. If that birthday cake enlights your day in the office, have it! You really feel like a glass of wine at a fancy dinner? CELEBRATE it! You should never feel like a prisoner of some kind of health boot camp, life is there to enjoy, but - like with anything - don´t overdose ;)
1 Choi, H. K. (2010). A prescription for lifestyle change in patients with hyperuricemia and gout: Current Opinion in Rheumatology, 22(2), 165–172. http://doi.org/10.1097/BOR.0b013e328335ef38
2 Choi, H. K., Atkinson, K., Karlson, E. W. & Curhan, G. (2005). Obesity, Weight Change, Hypertension, Diuretic Use, and Risk of Gout in Men: The Health Professionals Follow-up Study. Archives of Internal Medicine, 165(7), 742. http://doi.org/10.1001/archinte.165.7.742
3 Choi, H. K., Atkinson, K., Karlson, E. W., Willett, W. & Curhan, G. (2004). Purine-Rich Foods, Dairy and Protein Intake, and the Risk of Gout in Men. New England Journal of Medicine, 350(11), 1093–1103. http://doi.org/10.1056/NEJMoa035700
4 Pan, M.-H., Tung, Y.-C., Yang, G., Li, S. & Ho, C.-T. (2016). Molecular mechanisms of the anti-obesity effect of bioactive compounds in tea and coffee. Food Funct., 7(11), 4481–4491. http://doi.org/10.1039/C6FO01168C
5 Lee, J., Lee, J.-E. & Kim, Y. (2017). Relationship between coffee consumption and stroke risk in Korean population: the Health Examinees (HEXA) Study. Nutrition Journal, 16(1). http://doi.org/10.1186/s12937-017-0232-y
6 Loader, T. B., Taylor, C. G., Zahradka, P. & Jones, P. J. H. (2017). Chlorogenic acid from coffee beans: evaluating the evidence for a blood pressure–regulating health claim. Nutrition Reviews, nuw057. http://doi.org/10.1093/nutrit/nuw057
7 Oñatibia-Astibia, A., Franco, R. & Martínez-Pinilla, E. (2017). Health benefits of methylxanthines in neurodegenerative diseases. Molecular Nutrition & Food Research, 1600670. http://doi.org/10.1002/mnfr.201600670